Hello there! If you've found this page any other way than through a web link, you may feel as if you've just stepped through a looking glass, and wonder where you've ended up. Don't panic -- this is a page for those who are interested in counted cross stitch, and particularly in the cross stitch designs of Alesia Matson, one half of the team behind Grimalkin Crossing Cross Stitch Designs.
If you're looking for our fb cross stitch group, click here. 
If you wanted our WP blog, click here.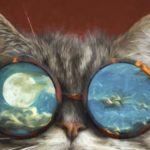 Still with us? That's awesome. Below, you'll see a growing list of PDF counted cross stitch designs available with links to bigger photos, fuller descriptions, and a buy link for your convenience. Thank you for reading along, and enjoy stitching!