We Need a New Genre of Fiction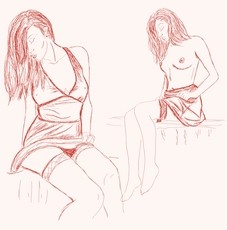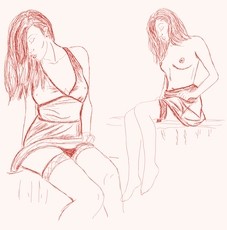 You know the list. You've seen it a thousand times. There's fantasy fiction, science fiction, historical fiction, crime, mystery, thriller… The list goes on and on -- until the clothes come off. Then, whatever real genre the novel belongs in, whatever real literary merit the work may have, is all forgotten. It's tossed into the "erotica" bin. The literary world's equivalent to the movie industry's derogative : "Porn!" Let the moralizers begin plying their trade.
You can kill a thousand men, you can show decapitations, torture, the devastation of war or famine; you can explore in exquisite detail the horrors of genocide or epic  disasters that leave the planet a barren waste land. You can do it visually or  literarily. Your movie, your book, your novella, will still bear the genre to which it belongs. But if you add a sex scene -- just one sex scene -- the genre comes off with the clothes. You're a pornographer; you're a writer of erotica. Nothing else matters.
The question is: At what cost?
Do our lives end at the bedroom door? Do the intimacies we share with each other in the privacy of our bedrooms count for nothing because they were shared during that most intimate embrace? According to the august sages that guard the marble halls of literary legitimacy with iron fists and sharpened swords (or maybe MWRAPS and machine guns), they do. The lives we lead with our clothes off account for nothing worthy of legitimate literary prose.
We disagree.
There is a place for pornography, both in film and in literature. There is also a gulf wider than the Grand Canyon between pornography and the sterilized, puritan fiction that weighs down the shelves of every bookstore on the planet; and in that gulf lays an entire world that has yet to be explored by writers of quality fiction. How many lives have been changed forever by emotional torrents unleashed behind closed bedroom doors? More than have ever been changed by war or famine or genocide (no slight to those who have experienced any of those horrors) by far!
It's time for that imbalance to be recognized and addressed. The door to the bedroom can be left open without descending into pornography's voyeurism. It's not that hard. Pornography is about watching the slippery bits doing their thing;  literature, real literature, is always about the whys. It's about the hearts and minds of the people whose slippery bits are doing their thing. For the non-erotica story teller, the purpose of a sex scene isn't arousal (though it might end up being arousing), but about revelation. How is this encounter is going to change the characters? Are they falling in love? Are they falling out of love and into lust? What are they learning about each other? Have they violated their religious codes? What does that mean? How will it change them? What will their friends say?  How is this advancing the plot?
That's the key. The plot: In an erotic novel the plot is sort of glued together around the required number of slippery-bit scenes, just like in a porn movie the plot -- usually paper thin, if there is one at all --- is little more than a scaffold on which sex scenes can be hung, one right after the other. In an adult or mature novel, the sex scenes fit into a much larger, usually complex narrative that has nothing what-so-ever to do with sex. In a mature novel, any sex scene is only relevant if it fits into the larger narrative. It may be very graphic, or it may not be graphic at all -- other than naming a few unmentionables. In an erotica novel, swear words are used to enhance the voyeuristic element, to further the illusion of illicitness. In a mature novel, swearing is used the way real people swear, which is to say, some swear a lot (like every other word), and some don't swear at all. Context, and the plot, reign supreme.
The mature novel tells it like it is. It shows life like it is in all its beauty and ugliness, all its cruelty and tenderness, all its violence and benevolence, all its frailties and its foibles, unvarnished and untainted by the moralizing keepers of literature's keys. In today's tumultuous world it's a form of art, a means to examine our world fully, honestly, without pulling back. It's a form of artistic express that we sorely need.