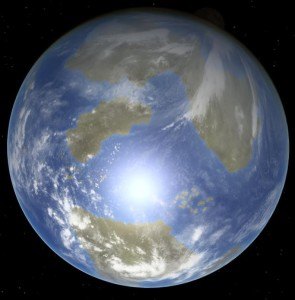 Welcome to the Menelon wiki. This is the place to come to dive behind the scenes and learn more about the world Vincent and Angelique, or Captain Terrell and his crew live in. First created by Michael in 1981, Menelon started on an 18x24 inch piece of heavy hex paper with the part of the globe you see here: The continent of  Korak (top), the continent of Menecal (bottom), the continent of Bizhan (left), and the Toraz Islands (lower right, between Korak and Menecal). The Paradise Island, which you can sort of see through the clouds between Bizhan and Menecal, came later, after Alesia and Michael became a couple in late 1992.
As you can imagine, after 30+ years of constant develop, Menelon has a richly textured history. In fact, just its recent history dates back some 25,000 years! Of that, the current human population can date its recorded history back some 10-12,000 years. Not that Michael and Alesia have written it all down in detail. Quite the contrary, in fact! Nearly all of that time has been brushed with broad strokes, as you'll see when you read through the entries on the deep history of the continents and migration patterns. Only the in the last few centuries (literally, from the 1st century C.E.) up to the "present" does the history become more detailed.
Obviously, that's partly simply a matter of time. Who has time to write out an entire world history? But it's also partly by design. It leaves more room for fans to write their own versions of Menelon's deep history, even back to before the cracking of the world by the Bizhani! Which is why we're presenting this background material as a wiki. While that which is "canon" is set, that which makes up the canon is always being extended, by us, and hopefully by you, our readers and our fans. Yes, participation is encouraged!
Submit your stories.
Tell us about your games.
Write a novel and send it to us. (We might even publish it!)
Sign up for our newsletter. You might find your short story there, or your invite for players to your next RPG session.
Thanks for reading along! Enjoy the wiki!