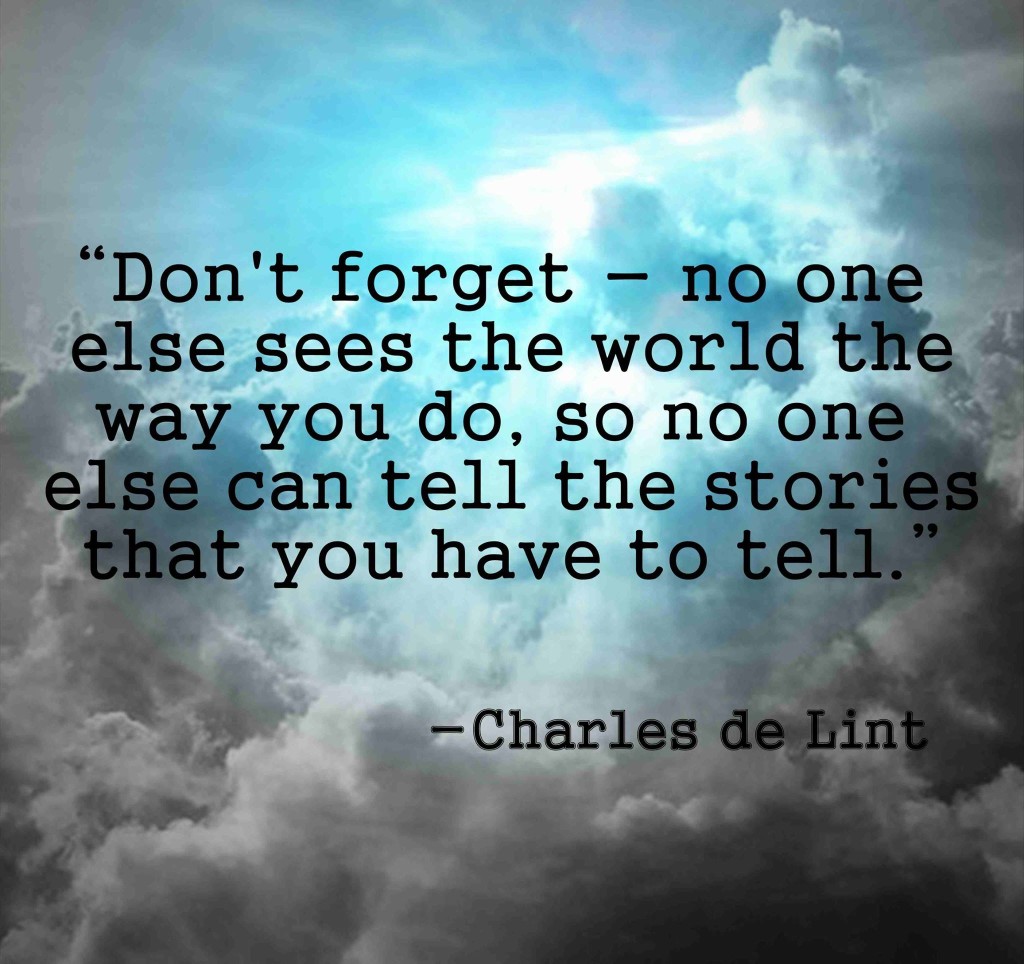 I've got a few minutes while Michael works on his part of the rewrite of a critical scene for Dead Man's Trigger, so I wanted to put down a few words on the issue, or matter, or perhaps the nature of perspective. You might think this is yet another wanna-be expert treatise debating the use of first vs. third person in writing, or perhaps either a defense of, or attack on, the industry-wide taboo on "perspective jumping" within scenes.
Well, you'd be wrong about that.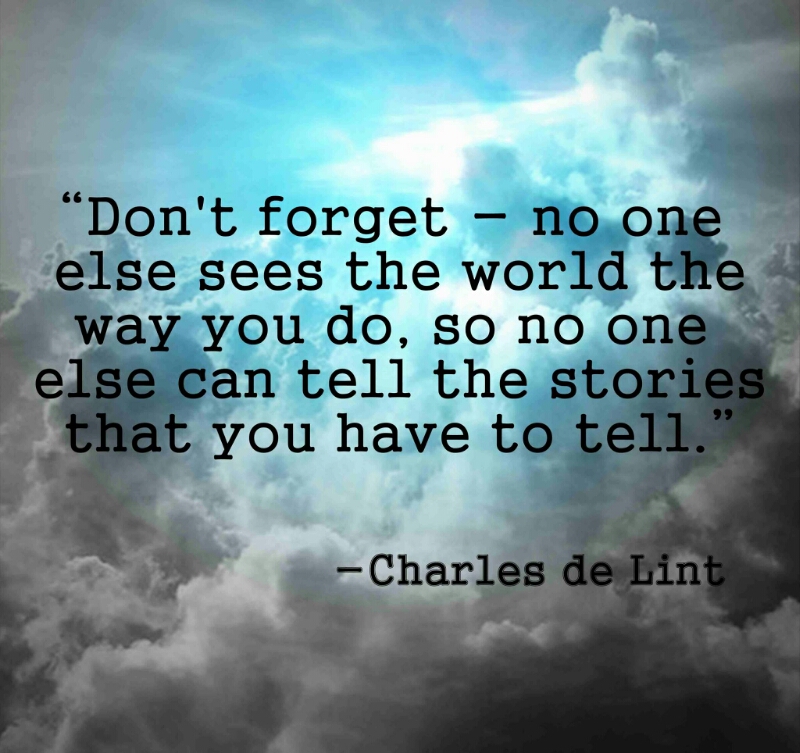 I want to talk about the breath-taking uniqueness of your perspective.
And I want to talk about that today because your perspective, the personal story you carry around with you every day, the one you bring along every time you crack open a book, determines not only what you're going to get out of it, but what you're going to do with it, too.
We inherit a perspective along with a set of sense organs at birth. Everyone has one. There are over seven billion perspectives at work on this planet right now. Maybe a billion of them, at any given time, are reading something. Maybe a million of those are reading a novel. This is just speculation, so let's say that in this moment, a thousand of those readers are reading the same novel. That would mean there are a thousand stories, a thousand personal perspectives intersecting with that one story, in this very moment. What happens when those thousands of stories converge in the pages of one story?
I'll tell you what happens. A thousand persons will read a thousand different stories in the same story. From that, hundreds of thousands more stories explode into being. Constellations, entire universes of ideas, concepts, philosophies, characters, and plots spring into potential, ready to be realized, actualized, into reality. Ready to give birth to hundreds of thousands more, in their turn. Some of these stories will get written down. A precious few get published - that's relatively true regardless of whether I mean "traditional" publishng or "indie" publishing or "self" publishing, for of the billions of potential stories that are born in every moment, only a small fraction of them are ever recorded anywhere.
The Elitist's Perspective
Some might say that's a good thing. They might say that there are too many stories being published now, that most of them are total crap, that the deluge of "bad fiction" and "poorly written books" into the market cheapens literature - that there should be a restrictive limit on what stories are written down, published, recorded for all time. They imply that some stories, maybe your stories, just aren't worth anyone else's time.
I get infuriated each time I reach this point in the argument. Excuse me for a moment.
Whew. Okay. Sorry. I'm back now.
Those are the dangerous elitists, in my book. They're the ones who say that if you prefer to read, let's say RPG-based fiction, or fan fiction of any flavor, or transcripts from your best friend's last online role play session don't deserve to have real, "published" books. Some claim the privilege to shame you for what you like to read (and how you like to read it, hence the endless pontifications on how the ebook is ruining literature, too).
Authors get asked sometimes about being elitist in our writing. What doesn't end up in a soundbyte-sized answer like the one in that link is that I'm actually rather plebian at heart. I understand that my preferences are just a reflection of my perspective, and that my perspective isn't any better or worse - or real-er or stupider or holier -  than anyone else's. In fact, it was that understanding about the relative insignifance of my own perspective that sparked a major epiphany about what's happening in modern fiction.
The epiphany was this:
I may not write what you like to read. I may not read what you like to read - but I'll defend with my last breath your right not only to read it, but to be able to purchase the kind of fiction you like to read* in the open marketplace, without sneering or snarky value judgements from anyone else.
That represented an expanded way for me to think about the stories I write - and the stories that you're going to incubate, after you've read them. See, it's not that I'm convinced that I'm such a great storyteller, or innately gifted with the written word. I'm convinced that the fabulous, fresh, batshit-crazy stories are going to explode inside you - because if you are reading fiction, especially fantasy or science fiction, I maintain that you're hard-wired that way, you can't help it. I realized that I don't really care how "literate" those stories are, or how "publishable" some fat cat in an over-upholstered chair thinks they are. They are yours, they are important to you. You want to play, you want to write, you want the freedom to rock a setting, but you don't want the endless hours of research, writing, and background character creation it takes to create and maintain a setting.
I not only get that, I care about it, too. Because I care about it, Metaphor Publications cares about it. When people start to care, things start to happen.
A Fresh Perspective
I've got some ideas to carry forward, but in the Internet Age, a fresh perspective has to be a crowdsourced perspective. So I leave it to you, our growing readership (thanks for that, btw - terribly gratifiying, as any author will tell you):
We've mentioned the Menelon wiki elsewhere, which is still in development. That will become more crowdsourced as more readers, writers, and gamers become interested in it as a fantasy/post-apocalyptic setting, but what would you like to do with it, if you could? What online tools or references or site partnerships would make it convenient - enjoyable! - for you to do the kinds of things you'd like to do? We'll leave the comments on this post open for awhile if you'd care to leave one. You can also reach us on Metaphor Publication's Facebook page, or at MetPub's Twitter account with your ideas - any ideas, we really like feedback - just be sure to link or mention this article, so we get your context.
Thanks for reading along - let's see where this goes.
* Because of the imperfect world full of imperfect people in which we live, my statement can't include books that glamorize murder or rape or child porn, or anything else that's on the rapidly-expanding list of taboo topics. Amen.
AE Matson is an author, and Creative Director, at Metaphor Publications. She's also a textile fiend, SFGiants fan, aspiring Buddha, RPGer, tech-geeky, crone, corsair. It's all about the stories. What's yours?