Indie Author's Spotlight: Julie Nicholls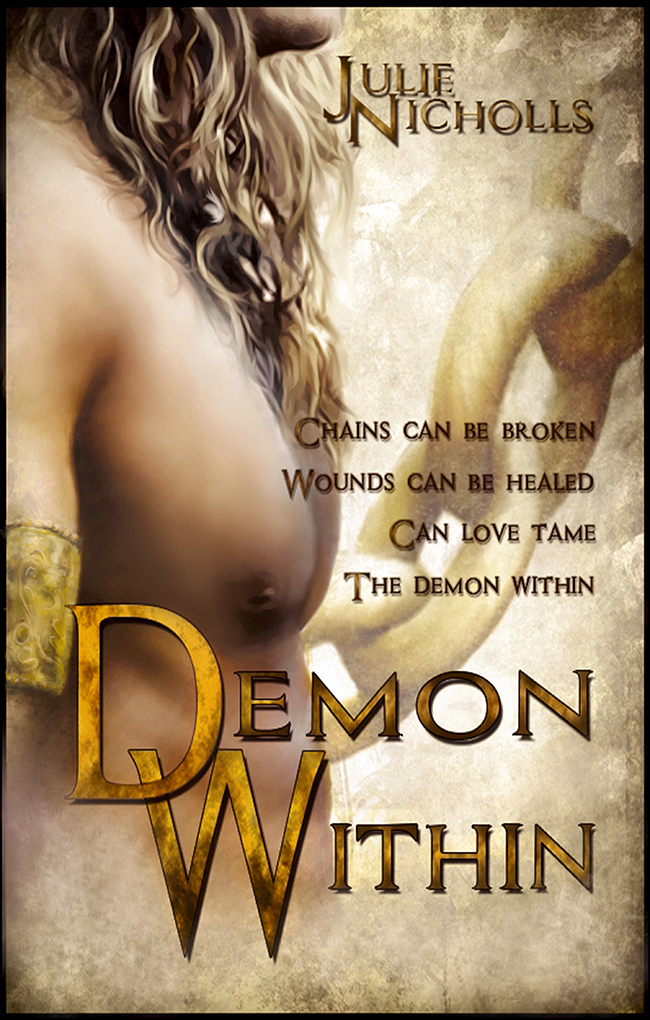 Welcome to a brand new feature here at Metaphor Publications. Our "Indie Author Spotlight" section is an opportunity for independent, self-published authors to talk about their latest projects. An author's appearance here is not necessarily an endorsement or recommendation from MetPub - we're just helping authors put the news out there, and then leaving it up to you, our readers, to make up your own minds! Without further ado, here is our interview with Julie Nicholls, author of the erotica series, "The Fallen Angels."

Good day, Julie! Let's start the interview with some fun. Tell us two true things about you, and one thing that is not true (though some people think it might be).
Despite my physical age, my attitude is young and I NEED to have fun and play games, and I love ogling hotties... And I generally enjoy being naughty. Oh! I role-play and love Xbox too!
I am sensitive, honest, kind, generous to a fault, and if I can aid someone, either by a kind word, or by listening, making a picture/artwork for them, it makes me happy.
I'm teatotaler, dislike red wine especially.
We'll let the readers make their guesses about which is the false statement in the comments, below. Julie, have you made the move to "full time writer?"
I suppose I have to answer "yes" because I'm retired. I sit at the pc writing all day, and since I've received my first "paycheque" from my work, I guess I qualify. I'm loving every moment, I might add!
Oh, so this is your second career? What was your first? What experiences did you draw from it that influenced your writing?
I've had a few careers: accounts clerk, telephonist for the GPO, technical engineer at British Telecom, and credit controller. Working in a customer care environment helped me gain insight into people and their mindsets by dealing with them on a personal level, which sort of gives me the ability to walk around in their brains. I also feel that good manners, politeness and consideration for other authors and for the audience I'm trying to win over are of paramount importance. Social media skills are vital to earn the trust and respect of potential readers.
Kai of Darkmide is the protagonist in your story. What would you say is the first thing readers will pick up on, as this character is introduced?

He's mean, vicious, and a bit of a beastie! Although stunningly handsome and majestic with a hint of delicious. At this point I have to tell you, I love my protagonist, I'm not sure if that's allowed, but I do.
So share with us something from him - make us fall for him too. Give us a quote, or a short scene, perhaps?
'What do you fear?'
His forehead crumpled at the question.'Ask me something else, please.' He urged huskily.
Eloise slanted her head to the side.
From her seat in the shadows, Teila leaned forward. It was against the rules to retract a question; Kai's deflection highlighted an issue.
'Kai, you must reply to her question.'
The stern voice echoed across the water and Kai nervously licked his lips before hissing in a deep breath. It was going well until this moment. Kai couldn't lie, nor would he wish to, but confronting an issue that lurked deep inside his psych wasn't something he wanted to admit.
'I'm afraid of dying alone.'
Eloise frowned. 'Alone? You mean, with no one fighting with you?'
He shook his head. 'No, I mean… alone, without love.'
He puffed out an agitated breath, and glanced up to the ceiling to wait for the light; even the temple didn't understand his reply. 'I don't want to die knowing no one will miss, or weep for me.'
Tears welled in Eloise's eyes and a lump formed in her throat; unable to speak when seeing Kai's pain. His adopted mother had torn his heart in two, and filled him with sadness that would haunt him forever. Rejected and alone, bereft of love.
Secrets and their revelations play a big role in your book. What can you tell us about those secrets? Why do they feature so prominently in the tale?
Oh, have to be careful! I can tell you that almost every character has a "role" in the revealing of secrets, each with their own piece of the puzzle. The main secret is about our hero, Kai and it's one of the reasons Eloise falls for him. The underlying story is not so obvious, and is regarding Garlan, the king. I wanted to have a story that was fun, interesting, and that would keep the reader guessing. I truly hope I've accomplished that.
The story is something of a jigsaw - at what point do you think the average reader would guess at the truth behind all the secrets?
I'm quite sure the discerning reading would spot a couple of the secrets fairly early; however, it's not all obvious until about three-fourths of the way through, with the reveal of the final secret at the end.
Promotion is a HUGE part of indie authoring. On average, how long each day do you spend promoting your work?
I enjoy spending time promoting my books, my paintings, and my websites, and I've never clocked myself but I expect it's at least 3-4 hours a day, possibly more when I'm not writing, editing or painting. When I'm focused on work, I become frustrated that I have to break the concentration to self-promote. However, social media is an integral part of promotion for people like me, and I love it dearly! If it wasn't for my cyber-friends, I would probably go insane, as I live in a village where there are no English speakers, and sometimes a girl needs girlie talk!
Ah, this book is part of a trilogy! Tell us a bit about why you chose a trilogy format, and how you think it best serves your story.
Initially, I didn't! It was going to be a one-off novel, but due to the popularity, and to the encouraging feedback from the readers and friends, I was able to work it into a trilogy. My husband brainstormed with me on the first book after I told him I had an idea, and we bounced off each other, making it a twisty turny thing rather than just a story with hot steamy sex. I believe three books were the maximum number to keep this story interesting and exciting. I had more ideas for the first book, but was already running over the word count and had to edit drastically. Plus, the characters are so lovable, and they're evolving as the story moves along. I don't just focus on Kai and Eloise, I'm bringing the secondary characters into the limelight more, and also introducing new ones.
Your love and enthusiasm for your characters and their story shines through in your words. How important do you think it is for an author to like, or even love, the characters for whom she is writing? Is an emotional investment a necessary part of the relationship?

Absolutely! I love my characters! Even the bad ones, and for me it's vitally important to feel passionately connected to them. I see their feelings and emotions clearly. I confess to crying as I wrote the scene in the temple, (snippet I posted earlier). I have no idea how other writers work, but for me, the story runs in my mind as a movie, and I see every twitch, frown, and smile.

You've had two entire novels in which to do some serious character development. Can you tell us a bit about how that flows into the next book, titled Angel Within? - without giving it away, of course.
I'll try! The characters in the first book have many issues and personal insecurities (don't we all!), and they're still finding their feet and way in the world.
Kai was sold into slavery by his mother when he was a boy. He's never known love, and learned from the slaver's that fighting brings rewards. When he meets Eloise, she teaches him that it's love that earns rewards, and not fighting. He's re-educating himself, he knows he can't wave his sword about, well he can, but he's becoming gentler and because of an event in the second book, he realises this. Eloise was bullied by her brother and father, she's meek and mild, shy and reserved, but she has to toughen up, and becomes strong, feisty, and dare I say it, a bitch with attitude - but in the nicest possible way!
Give us some idea of what readers may anticipate from the climax of your trilogy, Angel Within.
It's going to be a happy ever after! But as usual, there's always some smart arse who wants to mess up the day, isn't there? We've got a witch to sort out, another fallen angel, and a few other "baddies" before that can happen though, and of course, relationship issues, babies, and hell, there might even be a dragon! Kidding! No dragons, but it won't be boring. I promise.
This is a good place for you to tell our readers how to purchase both books!
Demon Within is available via Amazon, and you don't need a kindle to read it, Amazon provide free reading apps for your pc, so pop along and get it. The expected release for Angel Within, is May 2015, but if you follow me on Twitter, or Facebook, you'll be able to keep up to speed with release dates and special offers. I've just made a paperback edition of Demon Within available on Createspace for those who prefer to get their hands on a paper copy.
Julie, we'd like to thank you so much for answering our questions today about you and your fantasy series "The Fallen Angels." We wish you the best of luck! Sell a million! 
Julie Nicholls was born in Yorkshire, England. Her love of writing didn't fully develop until she moved to Bulgaria after retiring from work at the age of 42. She's the owner of "Literally Sensual" on WordPress, along with other writing friends, but is more known for writing Fanfiction and receives regular reviews. The release of her first novel, Demon Within, encouraged her to continue writing a sequel. The second book in the collection, "Angel Within", will be released late Spring 2015.

Angel Within