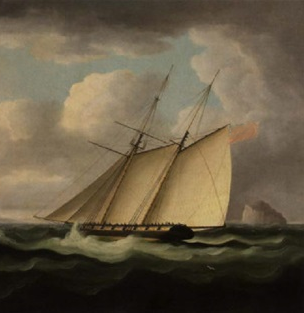 In the first Fire Mission story, the crew arrives in Bagédaan on a leaky old tub, but leaves on a fine naval schooner. In the fantasy and fiction world, there are several definitions of the "schooner," but in the 18th century, a schooner was defined as a two-masted, fore and aft gaff-rigged vessel. The two mast limitation meant that schooners were small. Naval schooners carried 14 cannon at most, and rarely reached more than 42 meters (140 ft) in length. Legend has it that the first schooner was built by ship-builder Andrew Robinson somewhere between 1714 and 1745 (sources vary). While watching his newest creation sail for the first time, it is said that someone exclaimed "oh how she scoons!" To which Robinson is said to have replied, "a scooner let her be!" (Mencken 1921)  Whether the tale is true or not, it became the name for this new class of sailing vessel.
On Menelon, the Falcon class naval schooners were the last ships designed by naval architect Mary Weathers-Strong who, in 589, was described by bardic historian Carl Palmer as "the most overlooked hero of the war". He went on to say:
   Today, a generation after the end of The Great War, we blithely use terms like "first rate", "ship of the line", "frigate", "corsair", and "schooner", all unaware that such terms did not exist before the history changing work of Mary Weathers-Strong. Her innovations not only changed hull designs and sail plans, but ushered in an entirely new era of naval warfare.

   Her ships were bigger, faster, stronger; they could fight harder and survive longer; they could sail in any weather, circumnavigate the globe, and most importantly, they were the first ships ever produced capable of carrying the advanced weapons and equipment we're so familiar with today. It's almost as if the gods looked down and said "here are 'the maryweathers ships'. Build them now, you'll need them in the future. They'll win you the war."

   And so it would prove to be.

Carl Palmer -- City College, Fernwall, 589
A hundred and forty Falcon class schooners were built by the now defunct Sumdown Yards, in Fernwall. The Golden Dawn was built in 528 CE and spent her early years as an escort ship for cargo vessels bound for supply depots in the Paradise Islands. In the 40s she would join the rest of the navy in taking her turn at being retrofitted. She was fitted with higher powered marine ballistae and was equipped with an Active Tactical Console, or ATAC. The latest in military magitech hardware, it would prove to be one of three popularized advances in technology credited with turning the tide in The Great War. ATAC gave the Golden Dawn the ability to see over the horizon, to see remote ship positions on the charting board, to plan navigation routes and battles, to send and receive communications from command ships and shore stations (in a limited sort of way), and it improved on-board communications. It also created the term "Combat Information Center," or CIC, a military acronym that quickly became associated with the compartment in which the massive central ATAC unit was installed.
Less than ten years later she was captured by the Confederation, who basically mothballed her while they studied the IMMC's integrated marine ATAC system. She would remain mothballed until Wil and his crew commandeered her and put her back into service in the battle of Bagédaan.
The Golden Dawn has a displacement of  286 tonnes, is 42 meters (138 ft) in length, with a beam of 8 meters (27 ft) and a draft of 4.8 meters (16 ft). She's capable of carrying 930 square meters (10,000 sq ft) of sail. Her mainmast reaches 40 meters (132 ft) and her foremast 34 meters (112 ft). Under full sail, in the command of a Class IV navigator, her cruising speed is 14 knots. With a "fresh and complementary breeze" she can make 16 knots. Her normal crew complement is 72.