This article is still under active construction, and may be for awhile -- elves are a complex subject, even for a wiki entry. If this one drops off mid-thought, it's because we've run out of time to complete it, but will get back to it very soon. Check back regularly for updates, or sign up for the Menelon Gazette to get updates delivered to your inbox on a semi-regular basis.
There are two ways to think about what elves are to this world. One is as an immortal race of dimensional travelers and planetary curators - and they are that, certainly. The other is to deal with them on the personal level, in the daily lives of the other peoples of Menelon. For the purposes of this article, we'll be dealing with the latter only.
Land, or Wood Elves
The elves of Menelon are an incredibly ancient race, and with them you get some of what you get in any other fantasy setting - pointed ears, somewhat fragile, large, angular eyes (needed to accommodate vision into the UV range), nature dwellers, magically-gifted, and either long-lived or immortal, depending on how one looks at it.
Their genetic material did not originate on Menelon, but tens of thousands of years spent living and breeding there have given them a generally distinctive appearance. Along with the some of the trope-standard characteristics (mentioned above), wood elves on Menelon tend to have nut brown skin ranging from pale to tan, depending on UV exposure, hair in any of the colors of autumn leaves, and any eye color including shades like lilac, chartreuse, and rose. Overall, they are a tall race, averaging over 6' in height, and skeletally, their lighter bone structure means that they tend to be a slender one as well.
Their natural life span is so long it's most effectively measured in millennia, and they are immune to most human and orcish diseases. The illnesses to which they are susceptible are those of the mind and the spirit. An elf literally can die of despair, for instance, or succumb to what's known as "the quiet," a near-catatonic state of anhedonia so profound their hearts simply stop beating.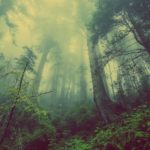 Elves on Menelon live in a relative handful of settlements, usually in a primeval forest, and remote from human populations.  These are typically known as "elven woods" and one exists on every known continent on the planet.  Within each wood is a "faeling circle," an interdimensional portal that is maintained and used by the elves for study and for interdimensional travel. Elven homes, workshops, and meeting places are some distance from the circle itself, however, as it is the equivalent of a super-highway for the fae, and the elves prefer to avoid their notice where possible.
If you were to walk down any street in Fernwall or several other human cities, you might see an elf or two going about their business, too. They are likely to be young, for their species, and if you were acquainted, that elf would even stop and exchange pleasantries with you,  just like any other human acquaintance would. As they age, they tend to have less and less in common with the mortal races and so it is very, very rare to see one outside of their home wood or enclave. Younger elves tend to enjoy human company and enthusiastically become involved in human undertakings. Some enjoy humans so much that half-elves are not so uncommon in areas where elven and human settlements are in proximity to one another.
Some History
On Menelon, they were humanity's allies in the Great War, and throughout human history have been generous with their knowledge and experience, assisting humans for as long as humans can recall.
In fact, elves have been resident on Menelon since the planet could first support life (planetary curators, remember?), developing the faeling circles into usable portals (for the elves and the fae; humans who've attempted to use the circles to emulate the elves' ability to travel interdimensionally tend to disappear, forever. In spite of the multi-dimensional maps and almanacs they maintain, the elves have never been able to discover where humans go when they enter the circle. They only know they've never emerged into a known locale, anywhere, again.
Peace-loving, harmony-loving, rarely intrusive, and never dictatorial, the elves as a race have simply always been around with an astute observation or a helping hand. They've had a civilizing influence on their human neighbors and seem to expect little in return other than to be allowed to pursue their own interests in peace.
Humanity's only recorded instance of armed conflict between humans and elves occurred relatively recently, in MCY 469, and among elves it is known as The Slaughter of the Elves and the Dwarves in Tinhellerin Wood (translated from the elvish), and it occurred when the Balcheri King Gunter, under the malign influence of a darkling sorcerer, led his armies into Tinhellerin on a mission to slay the elves or otherwise drive them out of his kingdom. Knowing the king's mind was in the grip of the sorcerer (whose identity they learned, but too late to stop him), and under the ancient vow of her people to nurture life rather
than destroy it, the elven queen drew upon the power of the faeling circle to cast a powerful enchantment over the wood using the willing spirits of the last of her people as they died defending it.
As of MCY 580 and the Raven & Iris stories, the wood remains haunted with the spirits of the elves and dwarves who died there. True to their vows, those cursed spirits will not take sentient life, but they've no scruples about driving mad any sentient who attempts to enter.
More to come.
Sea Elves
Yes, there are sea elves, though technically they're not actually related to elves at all. There are, in fact, vast civilizations of sea elves under that vast expanse of ocean. We're getting to them, promise!
Half-Elves
Half-elves have their own wiki page.
The Slaughter at Tinhellerin Wood