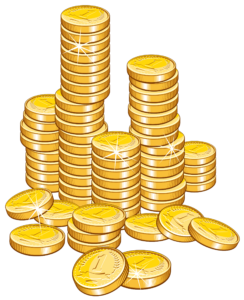 On Menelon, money and credit work a little differently than they do in the advanced economies of Earth. On Menelon, instruments that function as units of exchange for goods and services come in three forms:
Specie money: In other words, metal coinage, usually gold, silver, and copper or brass. Among the lower classes, this is often the only kind of money they either hold or accept.
Bank notes: The most common form of a bank note is, of course, paper money. But the paper money we're talking about here lives side by side with, and is equal to, the specie money. Put another way, there's no difference between a Cascadian £1 coin and a Cascadian £1 paper note. To ensure that remains true, any bank refusing to honor its paper notes is guaranteed a visit from the applicable royal treasury.
Credit money: Bills of exchange, promissory notes, and bank checks are but a few examples of credit money. Most people will rarely, if ever, encounter or use this type of money. In the business community and among the nobility and aristocracy, however, they are very, very common instruments of exchange that come complete with their own set of culture norms.

As it was on Earth before the era of government backed fiat currency, Menelon's economies have no annual inflation rate. Saving, for the average person, usually means tossing extra coins in a jar or box, just as our (great) grandparents did. Folks on Menelon know, just as our grandparents knew, that the money they save today will buy just as much in twenty years as it does today. What price fluctuations there are come from natural forces or man made disruptions, such as war, not from engineered devaluation of the currency (though debasement has happened from time to time, just as it did in Rome).1
So, while each country has its own coin, as they are all based on the weight and purity of the metals from which they are made, they are pretty much interchangeable. An ounce worth of "coined"2 silver is worth an ounce of coined silver, no matter whose face is on it, or which royal mint struck it. On the other hand, while debasement isn't currently much of a concern from the great courts of the post war world, pirates are famous for debasing the coinage that comes into their hands. It is this, perhaps, that explains the growing popularity of banknotes among the middle class and above in the post war world. They let the bankers take on the risks associated with foreign exchange, coin clipping, and forgery, and in return the bankers offer interest on time deposits.
Currency Interchange Chart
Because there is an abundance of information on the price of goods and services and wages from Great Briton during the Georgian and Victorian era, and because using prices pre-fiat/inflation is the only way to ensure systemic consistency, the British Pound Sterling is the baseline currency for determining prices and values. Because Cascadia was the only country to have an economy that remained intact (though not unaffected), during The Great War, it seemed only natural that the Cascadian Pound be an analogue to the Pound Sterling of that period; but the Cascadian pound is not the oldest pound silver based currency. That honor belongs to the Vin-Llamázi Launa. Cascadia was founded primarily by Vin-Llamázi immigrants, so the Cascadian Pound was patterned after the Launa. The Balcheri Silver Link, on the other hand, is an analogue to the Vin-Nôrëan Mark. The Sudaani ail is the newcomer. It was created after the war. Not surprisingly, as Sudaan's two largest trading partners are Cascadia and Vin-Llamáz, and in the latter decades of The Great War, the main ports of call for the world's wartime business was Shanakara, Gloredil, and Fernwall, that the new currency is structured similar to the pound and launa is only natural.
| Currency | Symbol | Exchange Rate |
| --- | --- | --- |
| Cascadian Pound | £ | Reference Currency |
| Cascadian Shilling | s | 20 per £ |
| Cascadian Pence | d | 12 per shilling, 240 per £ |
| Vin-Llamázi Launa | ₤ | Equal to the Cascadian pound |
| Vin-Llamázi Kyl | ₭ | Equal to the Cascadian shilling |
| Vin-Llamáz Sitt | s | Equal to the Cascadian pence |
| Vin-Nôrëan Mark | ℳ | Equal to the shilling & Kyl |
| Vin-Nôrëan Fenning | ₰ | Equal to the pence & sitt |
| Balcheri Silver Link | ₴ | Equal to one mark, shilling, or kyl |
| Balcheri penny | p | Equal to one fenning, pence, or sitt |
| Sudaani Aial | ₳ | Equal to the pound & Launa |
| Sudaani Gial | ₲ | Equal to the shilling & kyl |
| Sudaani Hial | h | Equal to the pence and sitt |
Credit
Above we listed credit as a form of currency. This is because, on Menelon, many credit instruments are fungible. A check written by a prominenant, well respected business person or noble will typically pass through many hands in the local community before it is presented to the issuing creditor for redemption. Obviously, this gives the idea of "credit worthiness" an entirely different level of meaning than we're used to in our world. Promissory notes issued by banks, governments, large companies, and of course, the titled nobility, have very high acceptance rates that can extend well beyond their local area. They can, therefore, charge premium rates of interest for the use of their money, and in turn pay very low rates to borrow. Smaller companies and the lower nobility may only have their notes accepted within their community. But even so, if you're a business in good standing, your promissory notes will probably be accepted by those vendors with whom you typically do business and those with whom they do business, which is all you need.
As a practical matter, however, most businesses and the wealthy usually transact through a bank, so in that sense, the promissory note is very similar to a modern bank check issued on a line of credit. You write the promissory note, which then wonders around like money for a few months (or years), until it finally lands back at the bank who manages your accounts, and they "cancel it out" by paying the face value out in coin or banknotes.
One of the interesting results of the Speenhamland system, which was introduced in England in the late 19th century, was that it showed how, absent external influcenes such as crop failures or improvements in technology, prices remained stable over very long periods of time. ↵
92.5% pure, aka "sterling" silver, an alloy hard enough to take the abuse coins are put through. ↵